Handcrafted and unique custom wedding rings
All of our rings are handmade after you order, creating a personalized ring just for you. We have exciting news! Our head jewelers attended an advanced and specialized training course out of the country for several months. We will be offering a whole new range of products in the future as their skills continue to develop! Keep in mind that our current lead time is 6 weeks. It's possible your ring will ship out sooner than that but it will be a case by case basis. Thanks for understanding and supporting us in these new and exciting changes! Do you need a ring faster than that? Contact us now to inquire about a rush service! 
Testimonials
My fiance and I had the best experience with Stone Forge. Not only were they communicative, but we received the ring ahead of schedule. The quality is superb and the packaging was absolutely adorable. We love everything about the ring and all my fiance wants to do is wear it now haha. Would love to work with this company again!

Lora C.
Stone Forge Studios went above and beyond and made us exactly what we wanted. We asked for some slight changes to one of his designs and we thought it would be a big job but it wasn't a problem. We were floored when the rings arrived as the detailing is so intricate; the vibrant colours  and materials have to be seen in person to fully appricate their beauty. Dozens of people commented on how gorgeous and unique they are. We'd recommend Stone Forge Studios to anyone. We love how the final product turned out and we love that our rings were made especially for us for the best day of our lives. Thank you so much.

Sarah R.
These rings are even more gorgeous than we had hoped. The fit and feel are perfect. They are also stunning. The only bad part, and this isn't really bad, is that the rings came much sooner than we anticipated, leaving us to stare at them for a full two weeks before we were married and could actually wear them. See? Not a bad thing. I have zero negative comments. If you, Potential Buyer, are wondering whether or not to purchase from Stone Forge Studios, the answer is "Yes! You won't be disappointed." Thank you, Stone Forge, for making these incredible rings. We will cherish them always!

M and N
I ordered a ring from another online site and had an awful experience. But I couldn't shake the desire to get a unique ring. I found Stone Forge Studios and saw the perfect ring. I called the customer service line and left a message expecting to never hear from them, but less than an hour later they called back and eased my mind. They stayed in touch with me throughout the process and answered all my questions. The ring arrived and looked even better in person! His ring has been shown off just as much as mine has! Everyone loves how unique it is and how it fits my whiskey-drinking, music-loving husband. Thank you so much Stone Forge for the perfect ring for the most special person in my life! 

Haley P.
We bought the wedding set, damascas steel and white opal, and the rings are so beautiful! They're absolutely breathtaking and we get many compliments on them. We couldn't have asked for the rings to look any better than they do, we are 1000% happy and highly recommend Stone Forge for anyone looking for a non-traditional wedding ring that is not only stunningly beautiful, but also high quality and well made.

Josephine M.
If I could give more stars I would! The ring is amazing and come in the coolest box. As much as the ring is awesome, I do want talk about the customer service. When I ordered my ring I was in a time crunch. I told Sterling about it and he was kind and understanding. He made me feel like my order was priority and that was super great! He'll do that for all of his customers. I would definitely order again from StoneForgeStudios!

Kerri K.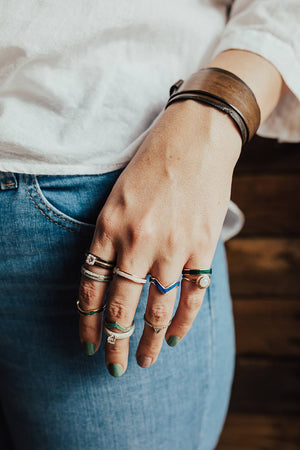 50% off Select Rings
When a customer needs a different size or something else doesn't work out those (still in perfect condition) rings are sent back to us and sold at a crazy good prices! This doesn't happen very often so only limited sizes and quantities are available.
Shop Men's
Shop Women's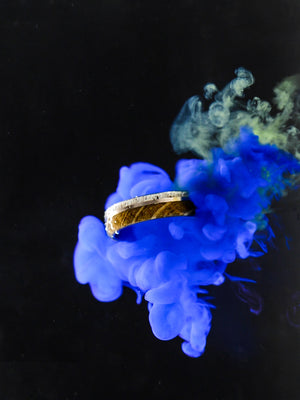 NOW OFFERING
FREE WATERPROOF COATING REPAIR*
If you ever notice your coating is chipped just send your ring back to us and we will repair it for free if the material underneath isn't damaged. (*with purchase of limited lifetime warranty)
Contact Us
It's on the house
Free Silicone Ring and Wood Ring box with every purchase